Restaurant-Style Fried Shrimp
Restaurant-Style Fried Shrimp
---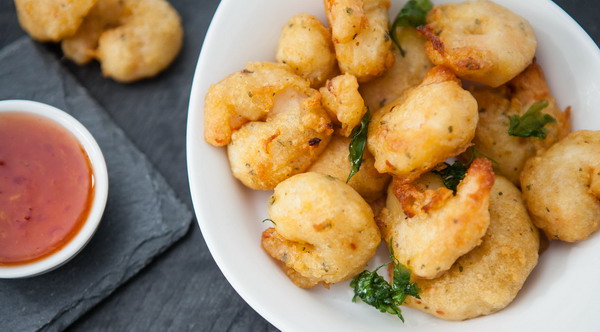 We've been used to going to our neighborhood seafood restaurant for fried shrimp every now and again. Tonight, I decided to do something different. First, I have to say that I've never been able to fry-up shrimp with any success. I guess it was because I never understood what I was doing! So, I took some plain old, frozen, deveined shrimp out of the freezer (just something I got on sale at Harris-Teeter; nothing special). The frozen shrimp were uncooked, but had been deveined (which I require of any shrimp I'm gonna eat).
Normally, I'd consult Julia; but tonight, I went back to my old friend, The Doubleday Cookbook. Well, almost as it was an afterthought, there was a small section under shrimp called, To Deep-Fat-Fry. It was simple. I began to get excited.
Ingredients
About 20 shrimp. More if you want, just keep adding ingredients as necessary.
1 egg
2 tablespoons of milk
1 cup of flour
1/2 cup of corn meal
3 teaspoons Old Bay seasoning (if you don't have that, use salt and pepper; although it won't have that Old Bay taste)
Preparation
I defrosted about 20 shrimp by running water over them in a large measuring cup. I pinched off the tails and took the rest of the shells off. Then, I tossed the shrimp in paper towels to dry them. I set them aside.
I prepared one mixing bowl with about a half cup of flour. I added three teaspoons of Old Bay seasoning to that and tossed the shrimp into the flour/Old Bay mixture and worked them around with my fingers. I then set that aside.
Then, I took one egg and two tablespoons of milk and mixed them together. That's going to be used to dip the shrimp just before dropping them in the final bowl I'm about to tell you about.
The final mixture was a half/half combination of corn meal and flour. That's it. Could I have used bread crumbs? You bet. But, I wanted to stick to recipe the first time, before I started variations.
I'm not a big deep-fry kinda guy. It scares me. So, I use one of those fry baby deep fryers. Using vegetable oil (peanut oil may improve the taste), I put about a quart into the fryer and let it heat up.
So, here are the steps:
1. Take the shrimp and roll them in the flour. I like to put them into a bag and shake them up with the flour to get them coated nicely.
2. Dip the shrimp into the egg mixture and then roll them in the flour/corn meal mixture until they are well-coated (again, the bag thing here makes it thorough, yet easy).
3. Drop them into the hot oil.
So that the shrimp didn't stick together, I put four shrimp into the fryer at a time. The fryer I use doesn't have a temperature setting, but if you can set it, make sure it's about 375° or the shrimp will overcook. I dropped my shrimp into the fat and let them go for about 1 minute (until they were golden).
Serving
Serve your fried shrimp with fries, baked potato, or a vegetable medley.
The Wine
Here's the tough one. Normally, I'd serve seafood with, well, white wine. But, I didn't have any whites that interested me tonight, so I tried a red (Oyster Bay Pinot Noir) that I had open from the weekend. Quite frankly, I liked it!
---
Image by
Erika Tanith
from
Pixabay