Quick Beef Wellington
Quick Beef Wellington
---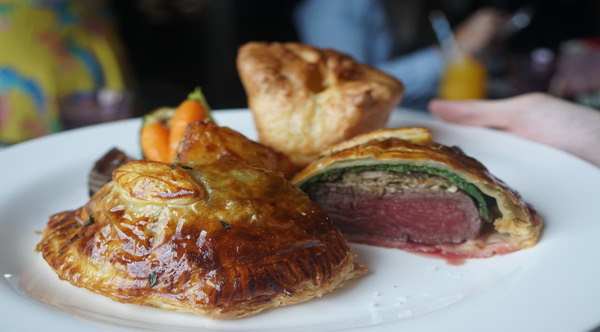 The traditional Beef Wellington is a tenderloin roast sometimes coated with liver pate, truffles, and mushrooms, then wrapped in a pastry.  For Quick Beef Wellington, I substitute condensed mushroom soup for the steak coating, and I substitute any good steak for a full tenderloin.
Ingredients
4 beef tenderloin, short strip, or other suitable steaks, 4 – 6 oz. each, fat trimmed
1 tbsp olive oil
1 can condensed mushroom soup
1 pkg. frozen puff pastry sheets (Pepperidge Farm is best), thawed
1 egg
2 tbsp. milk
Salt and pepper to taste
Serving
Rub both sides of steaks with olive oil. Salt and pepper. Place on cookie sheet.Bake at 450º degrees for 10 minutes. Chill 10 minutes.
Unfold 4 pastry shells. If you'd like to decorate the pastries, cut about ½" from the edge to make into decorative shapes later. Roll the rest of the sheet to about 8" diameter (big enough to wrap each steak).
Spread about a tablespoon of mushroom soup on the pastry shell and place the steak on it and then spread another tablespoon over the top of the steak. One can should cover all four steaks, so measure as you go.
Bring pastry up over steak and wrap completely. Brush with water to seal. Place, seam-side down on baking sheet.
Make glaze by beating together the egg and milk in a small bowl.
Brush glaze over pastry-wrapped steaks.
Cut 3 air vents in each.  Decorate with pastry cut-outs from step #2.
Bake at 450º degrees for 15 — 25 minutes or until golden.
Take out of oven and let rest for about 5 minutes before serving.
Serving
Place each Beef Wellington on a plate, and serve with asparagus, green beans, or my personal favorite, early peas.
The Wine
Don't let one of your better Cabernet wines go to waste.  Open it for this meal!
---
Image by
Chanwit Voraakan
from
Pixabay