Spicy Pork Skewers with Romesco Sauce
Spicy Pork Skewers with Romesco Sauce
---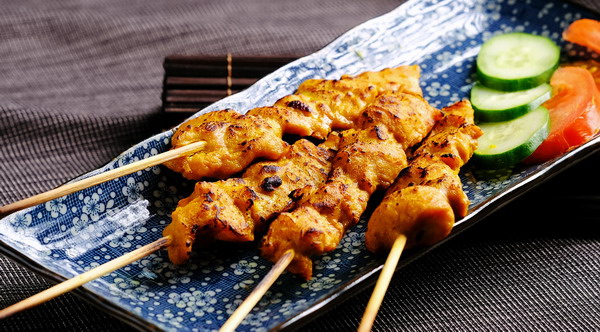 These pork skewers are a nice way to portion out tapas. The romesco sauce is a rustic sauce that gives a wonderful dimension of taste to the pork skewers you'll be making.
Preparing the Pork
1 pound (or more) of pork tenderloin 1 teaspoon ground cumin 1 teaspoon sweet paprika ¼ teaspoon ground cinnamon 1 teaspoon oregano 2 tablespoons Chardonnay or Sauvignon Blanc 3 tablespoons olive oil 10 bamboo skewers soaked in water for 30 minutes
Romesco Sauce
1 tomato seeded and chopped 2 garlic cloves ½ cup almonds 1 tablespoon olive oil 1 slice of homemade bread cut into cubes (to fit into the food processor) 1 12-oz jar of roasted peppers (piquillo if you can get them), drained and chopped (goes into the food processor later) ¼ cup red wine vinegar or sherry vinegar 2 teaspoons smoked paprika ¼ cup olive oil
Prepare the Pork and Marinade
Cut the tenderloin in half and then cut strips along the length. Cut the strips thick enough to thread onto a skewer.
For the marinade, combine the paprika, cumin, cinnamon oregano, wine and olive oil in a medium mixing bowl.
Whisk together and then add the pork to the bowl and work into the marinade. Completely coat the pork. Cover and put n the refrigerator for 2 hours.
Prepare the Romesco Sauce
Pre-heat oven to 400 degrees.
Place tomato and garlic onto a roasting pan and drizzle with 1 tablespoon of olive oil.
Toss to coat, and transfer to the oven to roast until slightly browned (about 10 minutes).
This sauce will be made in a food processor, so get the bowl set with the chopping blade.
Add almonds and bread to the processor and process until fine.
Add the roasted tomatoes, garlic, vinegar and peppers. Process until it becomes a puree.
Periodically scrape-down the sides.
While the processor is running, add 1/4 olive oil in a slow stream.
Transfer to a bowl or pan to warm (you don't want to cook this, just have it warmed for serving. You could use a slow cooker or crock pot on low for serving).
Finishing the Pork Skewers
Thread the pork onto the skewers. Think one skewer per appetizer, so you can spread these out.
If you can, grill these on a fire or use a broiler to get them finished and nicely browned.
If broiling, place these about 6″ from the broiler on high, flipping them 2-3 minutes per side.
Serving
Place skewers on a warming plate.
Serve with romesco sauce spooned over the skewer.
---
Image by
Husky Kuma
from
Pixabay