Creamy Gazpacho Andaluz
Creamy Gazpacho Andaluz
---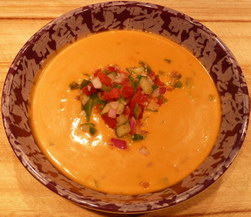 This is a recipe that I tried from my Cook's Illustrated bi-monthly magazine (number 105). The secret that makes this a "creamy" soup is the olive oil that you ever-so-slowly drizzle into the blender as you pulverize some of the vegetables. Sounds good, huh? Well, believe it or don't, it's great. The picture is from my first try. Getting the oil emulsified properly with the vegetables (that blender thing, again) creates a beautiful consistency and base for the chunky vegetables you add both before and when you serve.
Ingredients
3 pounds (about 6 medium) ripe tomatoes, cored
1 small cucumber, peeled, halved, and seeded
1 medium green bell pepper, halved, cored and seeded
1 small red onion, peeled and halved
2 medium garlic cloves, peeled and quartered
1 small Serrano chili, stemmed and halved lengthwise
1 slice high-quality white sandwich bread , crust removed, torn into 1-inch pieces
½ cup extra virgin olive oil, plus extra for serving
2 tablespoons sherry vinegar, plus extra for serving
2 tablespoons finely minced parsley, chives, or basil leaves
Kosher salt (or use half as much table salt)
Ground black pepper
Preparation
Roughly chop 2 pounds of tomatoes, half of cucumber, half of bell pepper, and half of onion and place in large bowl. Add garlic, chili, and 1½ teaspoons salt; toss until well combined. Set aside.
Cut remaining tomatoes, cucumber, and pepper into ¼-inch dice; place vegetables in medium bowl. Mince remaining onion and add to diced vegetables. Toss with ½ teaspoon salt and transfer to fine-mesh strainer set over medium bowl. Set aside 1 hour (doing this allows the salt to work on the vegetables, extracting water, forcing the proteins to separate from the from the flavor molecules, resulting more intense flavor).
Transfer drained diced vegetables to medium bowl and set aside. Add bread pieces to exuded liquid (there should be about ¼ cup) and soak 1 minute. Add soaked bread and any remaining liquid to roughly chopped vegetables and toss thoroughly to combine.
Transfer half of vegetable-bread mixture to blender and process 30 seconds. With blender running, slowly drizzle in ¼ cup oil and continue to blend until completely smooth, about 2 minutes. Strain soup through fine-mesh strainer into large bowl, using back of ladle or rubber spatula to press soup through strainer. Repeat with remaining vegetable-bread mixture and 1/4 cup olive oil.
Stir vinegar, minced herb, and half of diced vegetables into soup and season to taste with salt and black pepper.
Serving
After leaving in the refrigerator for several hours (overnight is best), ladle the creamy soup into a bowl, and top with a serving spoon of the diced vegetables and herbs to taste.
Serving this as an appetizer may suit hungry guests better than having it as a main course.
The Wine