Braised Lamb and Vegetables
Braised Lamb and Vegetables
---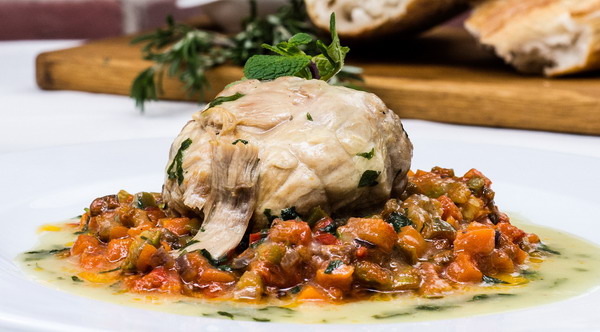 This is a hearty lamb dish that really makes my mouth water! I've served this on wintry nights with homemade bread and a full glass of red wine. It's perfect to get you warmed up and ready for some serious TV watching afterward.
Ingredients
1 Package Catelli Brothers Boneless Seasoned Lamb Leg Roast
4 tablespoons oil
3 tablespoons sugar
1 tablespoon salt
3 tablespoons flour
1 Large onion, sliced
1 Parsnip, cut down the middle
1 Turnip, thin cuts
1 Celery heart, prepared, wide slices
4 Large carrots, thick sliced
4 New potatoes, quartered
1 Package fresh, white mushrooms
2 Cups any red wine not worth drinking anymore
1 Cup plain old water
Preparation
Empty bag of lamb meat and retain the juice from the bag.
Mix juice with the wine. Set aside.
In a zip-lock bag, put lamb meat, sugar, salt and flour. Mix together. Then, in a large skillet or stew pot, brown the meat in the oil. Remove pieces and set aside.
Pre-heat oven to 350 degrees.
Using a Dutch oven (I like enamel/cast iron), put in parsnip, onions, potatoes, turnip, carrots, celery, mushrooms.
Lay lamb over the vegetables. Pour juice/wine mixture over the meat and vegetables.

Leave in oven for two-three hours, but baste the lamb (use a turkey baster) every 40 minutes or so. More if you get bored.
Serving
Take lamb out and cut 1/2 inch strips against the grain. Serve with risotto.
The Wine
What goes nicely with this hearty dish is a good shiraz in the Australian style, not the French/Rhone type.
---
Image by
Christo Anestev
from
Pixabay