Trip to Temecula
Temecula Valley
Preface
First, where the heck is "Temecula"? Well, Temecula Valley is located about an hour north east of San Diego. Some have called it "Napa South" and others have called it a "gem" to find. For me, it was a bit of both.
Temecula is one of the most historic communities in Southern California. … The name Temecula comes from the Luiseño Indian word "Temecunga" – "temet" meaning "sun" and "-ngna" which means "place of." The Spanish interpreted and spelled the word as "Temecula" translated to mean "Where the sun breaks through the mist."
I do want those reading this to understand that I'm not pulling any punches. Whereas we (WineChumps) don't talk down wines (we never rate a wine badly, we just don't talk about it if we don't like it), I feel it's important to give you my impression of this region — both good and bad. I did that with my Napa trip. So, you'll read about what I liked, and some of the things I didn't like.
As you read, if you see asterisks aside of a wine, it's a 4-point scale:
* I liked it.
** I liked it enough to consider buying it.
*** I liked it, and it's going on the list.
**** I liked it, and it's going on the short list.
My plan was to find 12 outstanding wines to bring home. In the end, I found 16!
One last thing. I've removed the prices. Except for prices you might find at the local retailers in the market — Barons, Total Wine, Vons (Safeway), Albertsons (again, Safeway) — I've left them out intentionally.
Arrival
I arrived on a Wednesday and spent the evening in Old Town after getting my SIP coupon books. I recommend you look at getting these — they are a great value. Find them at the SIP Temecula Wine Tasting Passport.
Thursday
First day of tasting. Early breakfast and out by 9.
Hart Winery
Arrived just after 9, and tasted six wines:
2017 Reserve Zinfandel **
2016 Tempranillo
2015 Mouvedre **
2016 Barbera **
2017 Aneis (white)
2017 Sauvignon Blanc
Rosalie, who had been working for Hart for over 20 years, knew the family and the vineyard, history of Temecula, and was a great resource for getting started, was at the desk. She was also doing punch-down in several vats. She took me into the winery to show me the punch-down and talked about how they were making the wine.
All the wines were, quite frankly, very good. Although the Sauvignon Blanc was good, the Chateau Ridge Springs New Zealand Sauvignon Blanc (Hauora, Bronze medalist, 2017) compares well with it.
Europa Village
I had considered this one to be a miss, but when I got there and started tasting, I found it was really quite good. Serving was Whitney, a single mother who's also a financial consultant. Tasting to my right were Josie and Michael, two SAS sales support consultants who were visiting for the day. I showed them SIP, and they got very interested in it. We talked quite a bit, and Whitney got interested in me and my winemaking (I'm letting them all know I make wine, and it seems to go a long way with some wineries taking me on mini-tours, as Hart and Monte De Oro did). Whitney had several suggestions about the SIP wineries. Recommended were:
Bel Vino but only to get an '08 Cab Franc
Chapin
Leoness Cellars
Monte De Oro
Doffo
Lorenzi Estate
Palumbo Family
Robert Renzoni
Wiens
Wines tasted at Europa Village were reds only.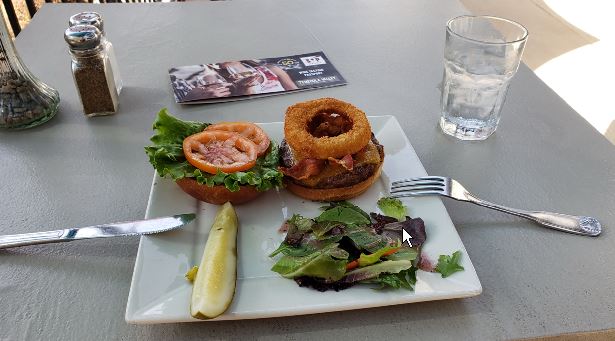 2014 Primitivo
2013 Pinot
2015 En Vie
2015 Winemaker's Reserve Pinot
2015 Cabernet Sauvignon (Stevie's recommendation, and a good one!)
After Europa Village, I drove across the driveway to Bailey's to have lunch at Carol's restaurant at the winery. I had a "Kevin Bacon Burger" with their homemade chips ($16). It was very good. Good enough that it commanded a nap. So, after I ate, detoxed a bit, I went back to the hotel and napped for about an hour.

Monte De Oro
Monte De Oro is a beautiful winery with a large outdoor patio and a very nice wine selection. I met Mary, who guided me through their offerings.
I told her that I'm an amateur winemaker, and she asked me if I knew the grape in Petite Sirah – Durif – I win! Actually, I really did win, because Mary took me on an impromptu cellar tour, where I met the winemaker (David Albright) and three folks helping him pull some of the wine off of a primary to make rosé.

Wines tasted were:
2014 Petite Sirah **
2014 Zinfandel
2014 Congruity (Zinfandel/Syrah) **
2014 Cabernet Franc
2014 Vigna Vicini (Cabernet/Syrah blend)
2014 Synergy (blend) **
Avensole
I arrived around 4.15, so it was late in the day. Scott, who looked like Jake Gyllenhaal's brother, was one of the kids serving. Frenchie finished my tasting for me (I tend to take a while tasting).
Wines tasted were:
2014 Syrah (100%, the only full varietal they have)
2014 Heritage (46% Mouvedre, 30% Zinfandel, 24% Malbec) was good; but not worth what they wanted. Go back to Hart for better value.
2014 Merlot (again, a blend of 75/17/10 Merlot/Cab/Malbec). Not bad, but not worth what they wanted.
2017 Susan Sauvignon Blanc. Honestly, I've had kit wines that were better.
2014 Solea (again a blend, forget it)
2015 Barbera (yadda)
Yawn. The grounds were nice, but I felt rushed and not at all catered to as in the other wineries. I did like meeting "Frenchie" (Scott) who Rosalie (Hart) recommended talking to.
Evening Entertainment
I went back to Baily Vineyard to experience "Shakespeare in the Vines." The play, All's Well that Ends Well, was put on by a local group of actors, and it was really very good. I think there were twenty people in the audience, so the turnout was small (but it was a Thursday).
Friday
Since none of the wineries I wanted to visit opened at 11AM, I decided to drive De Portola and see what wineries were there before my first visit. That's the road where Frangipani and the Baily facility are located. The drive was perfect and very cool.
Oak Mountain Winery
Oak Mountain was another beautiful winery with a long tasting room with bars on both sides. My server, Stefanie, had a similar story to the others I've been meeting. We talked about wine, and I did tell her I made wine; but no ad-hoc cellar tour was offered.
Now, to the wines.
Caveman Red (NV) was a blend that I liked enough to buy. ***
Kotas Kisses, another (NV) blend, I saw at Total Wine and wasn't bad. (profits go to the animals).
2014 Malbec, wasn't any better than a $10 from the HT.
2014 Petite Sirah, was light and not very representative of the varietal.
2014 Pinotage, was not bad, but not worth the price.
2013 Zinfandel, was just okay.
Overall, the winery was all right, but I desperately looked for something I'd write home about.
Callaway Vineyard and Winery
Well, I was excited about this place. Well-known in the area, high producer, stellar restaurant. I found it to be commercialized. The tasting was $20 for 6 pours, but that's deceiving when you find out that each pour requires a ticket; and some of the wines (e.g. the 2016 Winemaker's Reserve Petite Sirah) required two tickets. That turned me off a bit. What also turned me off was the lack of personality with the servers, who worked the tasting bar like it was, well, a bar. No real interest in my likes/dislikes, and no memory of what I had said just a few minutes ago. Impersonal, overpriced, and not return-trip worthy.
The Wines.
2015 Special Selection Grenache.
2015 Winemaker's Reserve Calliope (Mourvèdre, Cinsault, Syrah, Grenache, P. Sirah). **
2014 Winemaker's Reserve Syrah.**
2014 Winemaker's Reserve Wild Yeast Syrah. **
2016 Winemaker's Reserve Petite Sirah. ***
2014 Winemaker's Reserve Profonde (Cab/Syrah/Petit Verdot) (too much Cabernet)

The complaint.
Overall, Callaway was too commercial. Also, it really put me off when I saw that some of the wines required "two" tickets. Really? Either I'm tasting, or I'm not, but for $20 for 6 tickets with less than 2oz pours… …Really, two tickets?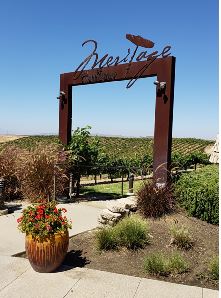 I planned to have lunch at Callaway's restaurant, Meritage; and I had a 10% coupon to use. Well, I ordered their version of a grilled cheese and ham sandwich ($17) with a full pour of the Petite Sirah ($17).
A nose of the wine showed it immediately to be oxidized. My server quickly replaced it from a fresh bottle, and it was lovely (and the highlight of the meal). I think this shows the level of quality you should come to expect here in Temecula (or maybe everywhere). While my server was polite, I think she should have known the wine was oxidized. Her reaction was proper – to replace it; but then she said that she didn't know how long the bottle from which she gave me a pour had been open.
The sandwich, however, had been fried/toasted in rancid oil. It was terrible. Apologetically, I mentioned it really wasn't good; and with no fuss the manager removed it from the check.
I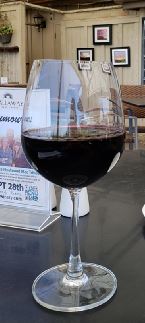 wanted to point this out, frankly because I expected a stellar experience at Callaway. I'm talking about this, here, so you'll be ready not to accept the mediocre in Temecula. Overall, this was an exception. In fact, it was the only questionable dining experience I had the whole week.
While you might not expect it, after reading this, I recommend you go to Callaway. Their wines are very good; but demand better. And if you think you're not getting the value you expect (from anywhere in Temecula Valley), point it out and don't be afraid to complain.
Evening in Old Town
I had a nap after Callaway, a dip in the pool and then thought I'd head to Old Town and go to Crush and Brew. There's a Speakeasy in the back (Thompson & Twain), and I thought it would be cool to try it out. Parking at Old Town is not a problem, as there are spots along the road everywhere. There's also a parking garage.
My original schedule was to go to the theater in Old Town and watch a show. It started at 7.30, and I figured I'd buy tickets once I got there. Ahead of that, I wanted to have a glass of wine (Hawk Watch 2013 Petite Sirah – not Temecula) and an appetizer (which is what seems to work well for dinner).
My schedule was preempted by Cindy, a tall blonde 54-year-old, divorced travel agent who sat next to me and asked me what wine I was drinking. She was really fun to talk with and after her friends arrived, we had our appetizers, I had another glass of wine (Woodworth 2014 Pinot Noir – again, not Temecula) and then visited the Speakeasy. I introduced my new friend, Cindy, to Eagle Rare Kentucky Bourbon. What a fun night we had!
Saturday
I si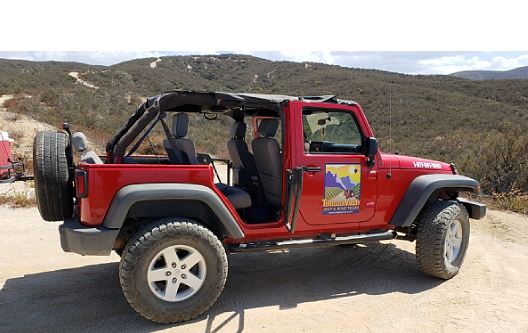 gned-up for a "Jeep Tour" that starts at 11AM and goes to 4PM. Our driver, Marco, arrived at my hotel at 10.45, and was immediately a great person to hang with. We went to the Barons parking lot, where we picked up a Norwegian family of three and an older couple who were recently married. I took shotgun, since I was alone.
Chapin
The tour started at Chapin winery, where I've been before. But, I hadn't tried their regular tasting menu the last time when Steve Chapin took us through a premium tasting on the tour I took when I went to the Winemaker Magazine conference.
The wines I tasted follow:
2013 Estate Syrah **
2016 Aglianico *
2016 Petite Sirah ***
2015 Estate Syrah ****
Danza Del Sol
The next winery we tried was Danza Del Sol, which is a fun place to take a date. It had a very active tasting room with live music outside on the patio.
The wines I tasted follow:
2014 Grenache
2013 GSM
2014 Tempranillo
2014 Syrah
2013 Merlot
2017 Chenin Blanc
None of these wines were stand-outs. The Chateau Ridge Springs Suid Afrika (South African Chenin Blanc, 2018 WineMaker Magazine Bronze winner) is better.


Akash
This was the last on our Jeep tour, and it was an excellent find. Owned by two brothers (last name Patel — a very common South-Asian Indian name), it was in its "soft launch" (sounds like an e-Commerce website, but what would I know of that sort of thing?). And, judging from the quality of the wines I tasted (and bought), these brothers are well on their way to making it this a great winery.
The winery tasting room is no-frills, and the patio outside was nice, but not overdone. They still have portable toilets outside. But with wines this good, who cares?
Marco left us go way past 4PM. I think we ended up leaving around 4.45.
The wines I tasted and bought follow:
2016 Zinfandel ****
2016 Petite Sirah ****
2016 Sauvignon Blanc ****
2017 Sauvignon Blanc ****
And, I bought two white wines from them. What was I thinking? Well, that they are EXCELLENT!
Sunday
At Marco's recommendation, I texted Saddle-Up Wine Tours to see if they had a slot or cancellation, since I was interested in going today. TJ texted back, and I met her, another guide and three horses next to Leoness Cellars, where I would finish with a wine tasting. I chose to do one wine tasting, since I've been having a lot of wine this week. The trail ride was good, the horse was fun, and the pictures were fantastic. TJ was very chatty, asking all sorts of questions, and generally being a lot of fun to hang around with.
The ride ended, and we went to Leoness Cellars where TJ got me started on the tasting before heading out.
The wines tasted were:
2017 Viognier
2015 Grenache (no)
2015 Melange de Reves (GSM with Cinsault – S/C/G/M 58/25/10/7) **
Meritage (Merlot/Cab Franc – 66/29)
2015 Syrah *
2015 Petite Syrah **
2015 CS Zinfandel **
2016 VS Zinfandel Hui Vineyard ***
The only ones I'd consider are the Petite Syrah and the 2016 VS Zin.
Monday
I'd planned on visiting 4 wineries today, but did tastings only at three.
Mount Palomar
Today, I arrived at Mount Palomar winery at about 10.30. The place was empty, and they were still cleaning, leaf blowing and power washing. They power wash a lot around here.
My tasting was uneventful. The first tasting hostess was bubbly, but less than helpful. I'd come to taste the Petite Sirah, which I was told wasn't available to non-members. However, Zack hooked me up when she wasn't looking!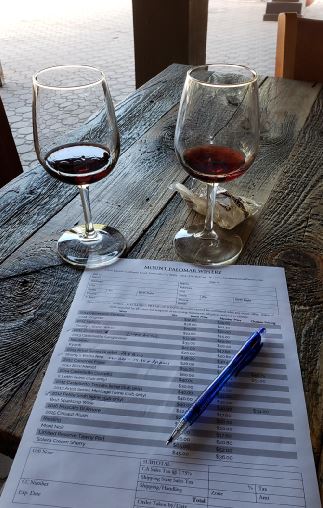 Wines tasted:
2012 Zinfandel (Lioness is better, but more expensive)
2013 Artist Series Quartet
Shorty's Bistro Red (NV) at the winery; $14.95 @ Barons
2012 BOV Merlot (good, but not worth the price they wanted)
2012 Petite Sirah ***
The grounds at Mount Palomar were stunning. It was as if Disney had designed them, and it was clear they had this as a venue for weddings and large get-togethers.
Doffo
Doffo, which is located directly across from Chapin, was quite nice. My tasting server was Rebecca (Assistant Manager), whom I later learned had been a model in Italy (I believe it), moved to the States and got looped into Doffo. She was pretty (yes!) as well as pretty helpful, and she listened to me about what I wanted (which is important to me). At each winery I've been up-front that I'm an amateur winemaker. Sometimes it gets me a free tour.
Wines tasted:
2015 MotoDoffo Super Tinto (60% Malbec, 30% Cabernet Sauvignon, and 10% Zinfandel **
2015 MotoDoffo Gran Tinto (85% Zinfandel 15% Petite Sirah) ****
2015 Salute (Petite Sirah and Malbec) ****
2014 Syrah (100% Syrah, 30% of the barrels are heavy toast; the rest are NO toast!) ****
I guess the best part of the whole thing was that Rebecca offered me an "Inter-Winery" discount of 10%. So, 10% is an easily-given discount for just about anything, but I was both impressed and honored that she'd mention it. I'm to see Alex tomorrow, if I buy. I just might!
I drove to Briar Rose, but it wasn't what I expected. The YouTube video made it look a lot more storybook. I didn't try the wines, because their selection didn't lean toward my likes, and their prices were a bit high. One point I did like was that their wines are "unfiltered." I would have asked about that, but they had a crowd from a retirement home there; and that was monopolizing their time. To be fair, they do ask for reservations; but with all the wineries in Temecula you can simply walk into, it wasn't a priority for me.
Lorimar
Lorimar was the last winery visited today. My tasting gal didn't listen to me, and started pouring what she wanted me to have – a Sangiovese (main Chianti grape) – before I told her I didn't like Sangiovese. She kept trying to decide for me, finally I just told her what I wanted. That seemed to work. I found this sort of behavior on occasion, and I assume it's because many folks who visit these wineries really don't have a set agenda. I tried to let each one I visited know, but I wasn't successful at Lorimar.
The patio in front of the winery was beautiful, and I chose to sit out there with the wines – one at a time – to taste them in the great outdoors. About 20m in, a couple (members) came over and asked if they could join me, and we chatted about Temecula, wine, my wife's nose (ability), and some more about wine. Nice folks.
Wines tasted were:
2015 Mourvèdre Petite Verdot
2015 GSM
2014 Tempranillo-Barbera
2013 Petite Sirah
None of these wines were standouts to me. While good, not worth the price.
Tuesday
Bella Vista
One of the first wineries in Temecula was Cilurzo. It was purchased later by Bella Vista. I visited Bella Vista, however I was unable to find any wines to add to this blog.
Masia de la Vinya Winery
This is a relatively new winery in the area, and their first vintages have just recently become available.
The wines I tried were:
2013 Syrah
2013 Orquestra
2013 Granache
2013 Barbera
Overall, I was not impressed.

Fazeli Cellars
I visited Fazeli cellars on a lark. It was one of several wineries I had on my list, but I wasn't able to make it to all of them. So, as I was driving down De Portola road, I saw Fazeli and decided to stop. Wow, am I glad I did!
First, the wines were impressive. I didn't expect much. My server, Kara, was up-front in telling me that the wines were created by a Persian family, and that some of them had a bite or a bit of spice to them. That didn't concern me, as I've made plenty of wine that exhibited similar characteristics. However, I forged on. And on, I went! I tasted more than what's listed below; but I'll tell you that I was impressed beyond expectation. These wines are tremendous; and they impressed me to the extent that I left with three — pushing them to the top of my short list immediately!
Also, and worth noting, their restaurant (Baba Joon's Kitchen) served up a scrumptious Steak & Bleu Cheese Flatbread, with Bacon Béchamel, prime rib, red onions, Gorgonzola, pomegranate reduction! Worth every dime and went EXTREMELY well with Mayhem!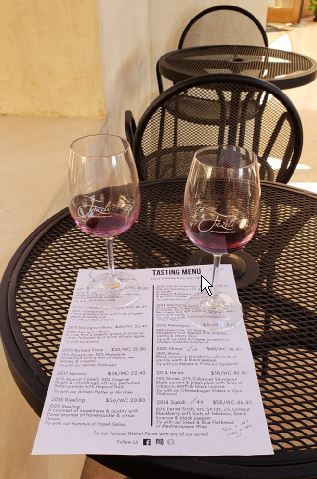 The wines I tasted included:
2014 Hafez (Shiraz 73%, Cabernet 27%) ****
2014 Shiraz (100% Shiraz) ****
2014 Mayhem (30% Cinsault, 25% Shiraz, 20% Cabernet Franc, 10% Zinfandel, 8% Petite Sirah, 7% Mourvèdre) ****
The Final Wine List!
It didn't take long to figure out that even the short list was too long. After the surprise of Fazeli, I really had to do some thinking.
I had reserved Tuesday for the day to go and buy the wines from my short list. I failed. I wanted about twice as many as I could carry. I "settled" for only 16 bottles (12 in my new wine luggage, 6 bottles shown below with another six on the other side; and 4 in my main luggage).
Here's the list.