Trip to Napa
Prelude to Napa
Preface
As I've been writing this blog, I had to think seriously whether I would write about both good and bad experiences.  To help our fellow WineChumps out there, I decided to give our total experience.  That means we'll tell it as it was for us — both positive and not-so-positive.  After all, this is a blog about a couple of WineChumps stumbling their way through Napa.  Barring natural disasters (the world is supposed to end the Saturday we're in Napa) and other unforeseen (or foreseen) events, we'll keep the experience going.  For now, enjoy.
Arrival
Before embarking to Napa, my friend and I went to Laguna Beach for dinner as we planned our Napa assault.  While we were slated to have dinner at Sorrento, both kismet and bad directions caught up with us; and we had dinner at a rather rustic, yet atmospheric haute cuisine grille called The Lumberyard.  Even though the kitchen was backed-up, because of an unexpected uptick in reservations for the show at the playhouse, the wait staff was, nonetheless, top-notch.
Disney and Dinner
The obligatory day at DisneyLand must be observed.  After all, why would someone who grew up in Florida, living less than three hours from Disney World, traveling clear across the country to the West coast not visit the place that started it all?  I couldn't come up with a good reason.  Plus, with highs in the 60's and partly sunny skies combined with a weekday visit that promised crowds would be kept to a minimum, it was a foregone conclusion.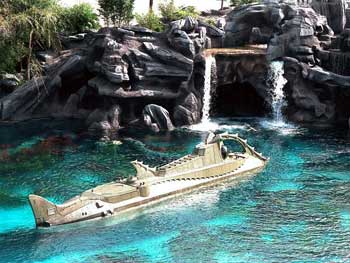 So, after a day of Space Mountain, the 20,000 Leagues Under the Sea revamped to be another darn  Finding Nemo ride (the captain of the Nautilus in 20,000 Leagues was, of course, Captain Nemo — but I digress), the Matterhorn (a million years old ride, and definitely smelling of kerosene and oil on the tracks but quaint nonetheless), $12 moon burger and water, The Grand Prix relabeled something called Autopia, and the monorail (which was not running that day), it becomes an extremely long sentence.
For dinner, I asked my friend to stop by the local grocery store (Ralphs, a Kroger company) to pick up some simple ingredients (don't forget the bottle of wine) for a quick but satisfying dinner at home.  After the chaos of Disney, one needs a comfortable respite.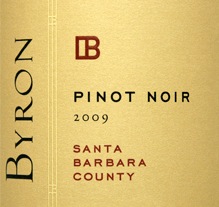 The wine was a 2009 Byron Pinot Noir from Santa Barbara County.  Less than $16, and packing a full nose of cherry.  With a smooth finish, it went perfectly with dinner — angel hair pasta with a vodka sauce and Trader Joe's chicken sundried tomato and basil meat balls completed with a side of garlic bread.
Night in Morgan Hill
First, although you don't know them, I highly recommend staying with my friend's brother and his wife in Morgan Hill.  What I learned about Napa and the general wine region from folks local to the area was, quite simply, priceless.
We had the chance to visit two wineries for tastings.  The first, a small winery that had been owned by a Japanese businessman and then later sold to a winemaker who really knew what he was doing, was a surprise.  Sycamore Creek Vineyards, tucked away in Morgan Hill, isn't ostentatious. The oaked and naked Chardonnay was excellent.  So, as I was soon to discover, was the Cabernet Sauvignon.
Then, there was Clos LaChance.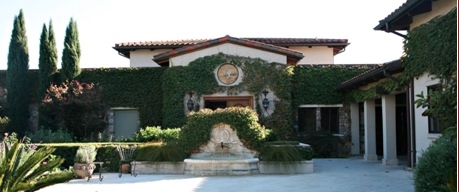 You could ignore the beautiful gardens and vineyard view, the golf course and the mountains if you wanted to concentrate on the wine only.  But, why wouldn't you combine the absolutely wonderful Pinot Noir they bottle with the view?  Unbelievable.  Really.  The Pinot runs just under $50 a bottle, and the view was free (as it should be).  Beats David Bruce any day of the week.
The really disappointing part of this part of the trip is that we didn't have days to spend there.  I mean, look at this map of wineries in the Gilroy area alone (click here to see the map).
And, while that's all good, Rick (my friend's brother) brings out a bottle of something.  You see, there was no label on the bottle.  The explanation?  The vintner hadn't designed a label yet.  I have absolutely no idea what it was.  None.  Might have had some Cabernet Sauvignon.  Don't know what else.  Might have been oaked.  Don't know.  It was red, had a great nose of raspberries and a beautiful finish that was complicated by a rush of vanilla.  Alcohol?  A bit, but you didn't notice it as much as you did the fact that you wanted another sip.  Stupendous.  And, no label!
Another prize was the Talbott Vineyards Pinot Noir.  This was one of the better Pinot's I've had in a long time.  Exclusively available through the winery itself, don't look for it on retail shelves.  Worth every penny!
Trip to Napa
During the latter part of 2010, a friend and I talked about visiting America's Wine Country.  While I researched and planned the trip to California, I discovered that America's Wine Country reached from just north of Los Angeles, through Paso Robles and then branched into Sonoma and Napa valleys.
I zeroed-in on Napa for this trip, and away we went.  First on our list, direct from Morgan Hill was Chappellet.
Chappellet
It started from a discussion about wine with a friend at work.  He was all about golfing and, of course (why wouldn't he be), wine.  Not necessarily at the same time, you understand.
His friend, a wine distributor, recommended a wine from a smaller producer in Napa.  That wine was the Chappellet Mountain Cuvee.  The wine was so impressive, and the story about the vineyard so compelling, I thought I'd make it the first, scheduled stop on the trip.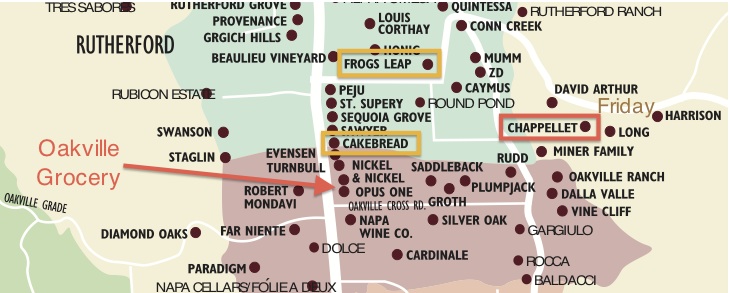 Chappellet (pronounced sh-apple-lay; although our hostess pronounced it sh-apple-let — maybe she wasn't from France) has an impressive tasting set-up, but we were underwhelmed by both the overall tasting and the experience.  At $25 each, the tasting consisted of only four wines, ranging from $28 to $135 a bottle.  I expected something like the tasting experience I had in France, where you'd tour the cave, see the bottling facility meet the vintner, and leave with a souvenir glass.  Not at Chappellet.  After 45 minutes of an entirely too happy hostess telling us about the history of the vineyard and the wines, it was over.  We sort-of looked at each other and asked, "is that all there is?"
To be fair, I tried to schedule a tour and tasting ($35 per person), but it didn't appear that they were doing tours anymore.  Just before we left, I asked our hostess about the tour, and she said they'd stopped doing them last year.
We were part of a group totaling eight.  Nobody left with a bottle of wine.  What does that tell you?
Definitely bent on the wine club and membership, many of the producers here push the vineyard exclusive wines.  Chappellet, I'm sure, is the first of many we'll encounter that are doing this.  And, I get it.  Direct to the public cuts out the wine distributors and their 40% discount.  At any rate, we had one more to squeeze in before our Friday was over.
Markham Vineyards
Our next stop was Markham, which has a tasting room just off of the 29 on the way to Calistoga.  For a single $15 tasting fee, we sampled five wines (they threw in a muscat for free).  We actually enjoyed this tasting more than Chappellet.  Wine club aside, it was more in-line with the fee, although we still didn't get a free glass!  We left with two bottles — a Chardonnay and a Muscat.  Go figure.
Saturday
We woke to a beautiful, sunny, cool Saturday morning in Calistoga; and we wasted no time getting to the winery experience.
Mumm Napa
Our first stop was for a bit of morning sparkling wine at Mumm Napa.  Located in Rutherford, just off of Silverado Trail, Mumm Napa has a stunning view of the valley.  Tasting options varied, but what we liked was that we had a sit-down experience on the patio overlooking the valley.
We sampled two of the Prestige sparkling wines, and found that tasting in the morning can be an uplifting experience — especially if the wine has a bit of carbonation!

This is a tasting I'd recommend for the morning.  The sun is just right, and the breeze keeps you cool enough (at least in May) that you can enjoy the wine and the surroundings.
Our Mumm Napa tasting experience ran just under $20 for the two of us, and that would set the tone for other tastings where we sampled specific wines or an array of offerings.
Frog's Leap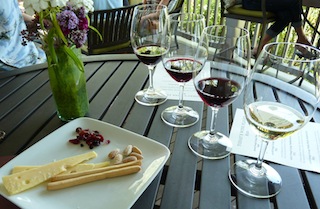 From Mumm Napa, we headed south to Frog's Leap (only about five minutes away).  This was another sit-down tasting.  We were seated on the veranda and presented with four wines to start.  Later, our server brought a Frog's Leap Zinfandel (2007) at my request.
The grounds and tasting house were "country" with a wrap-around porch, gardens, and in the distance, vineyards.  This tasting experience rounded out to about $20 for the two of us.  Alas, again, no glass!
The Hess Collection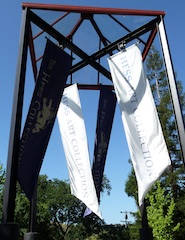 After Frog's Leap, we drove down through Yountville.  We stopped for a quick burger at Pacific Blues and then headed to Hess.  Located far down Redwood Road, west of 29, is an early 1900's winery that was purchased by the Christian brothers and is now leased to Hess.

The tour and tasting were top-drawer.  Integrated with the wine tour and tasting experience is the Hess Art Collection, which is comprised of several modern art pieces including sculpture, video art, and oils.  But, we were there to sample the wines that you don't ordinarily find at the grocery store — something a bit better then "Hess Select" at HT.
Sunday
Today, we packed six destinations into a seven-hour time slot.  I've decided to put them into a table, below, to keep them straight.  We didn't get crazy with each tasting, but we didn't let up until everything was closed!
Chateau Montelena

This was our first winery of the day, where we sampled five, different wines in the "Library Tasting" experience.  The wines included the following:

2009 Sauvignon Blanc ($25)
2007 Napa Valley Chardonnay ($55)
2006 Montelena Estate Zinfandel
2004 Napa Valley Cabernet Sauvignon ($55)
2004 Montelena Estate Cabernet Sauvignon ($155)

There is a self-guided tour of the estate grounds, which included the original estate, and a pond with two Asian-themed gazebos.  The chateau had several tasting rooms on the tour as well.  We weren't able to see the bottling room, as that was part of a guided tour.

Frank Family Vineyards

This was the second stop on our list today.  We found the tasting experience to be rushed and a bit crowded in a small area.  The wines included a very nice Chardonnay and a good Syrah, and the people were very friendly.

I asked the folks there to recommend a good place for lunch, and they pointed us to the Silverado Brewery.  Not bad.  Not bad at all.

Cakebread Cellars

This was a bit of a disappointment.  When we drove up, a greeter told us that we needed reservations for a tasting.  He went on to say that we could see if there had been any cancellations.  That just turned me off.  We'd been asked if we had reservations at other wineries, but were quickly served nonetheless.

To the right is a picture of their tasting room.  It was a cool place with the big, stainless steel drums.  And, sure enough, there were slots open for any tasting we wanted.  But, the tasting fee was a bit high to get a sip of some of their better wines.  We had a short discussion, and then we decided that $15 for what you can get at a grocery store, $30 for the reds, and $40 for the reserve collection — all per person — wasn't worth the fee.  We decided to pass, but one of the other greeters caught us and offered a free tasting of any wine we'd like (thanks, William!).  I tried the Syrah ($40) and my friend tried the reserve Cabernet ($106).

Jessup Cellars

This was a nice surprise.  Located in Yountville, Jessup Cellars was a delightful place to drop in and have a taste of some quite competent wines.  We tried the Chardonnay, which was buttery and smooth.  Quite nice.  We also tried their Zinfandel, which I found to be one of the better Zinfandels I'd had (save for the Chateau Montelena).  The prices were average ($30's), and the tasting — hold on to your wallets — was free.

Nice job, Jessup!

Silver Oak

Known almost exclusively for their selection of Cabernet Sauvignon, the tasting was $20 to sample three of their finest, and you got the glass to take home along with a $10 coupon toward any wine purchase.

I'm pretty particular about Cabernet, and I was surprised to find that as the price of the wine ascended, the wine descended in the degree to which I liked it.  My friend agreed.  Perhaps those pricier wines needed decanting, but overall they were all quite good.

And, the glass looks like a Riedel.  Good job!

Castello di Amorosa

This is the only winery we visited and didn't sample the wines.  The fact of the matter is that by the time you get to the sixth winery you might find yourself "tasted out."