Seared Saffron-Tomato Shrimp
Seared Saffron-Tomato Shrimp
---
This brings a great seafood addition to your tapas menu.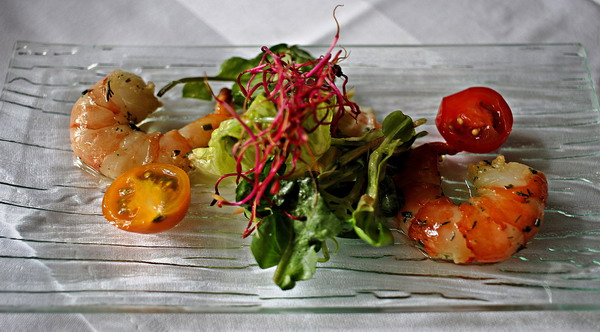 ½ cup Chardonnay or Sauvignon Blanc
½ teaspoon saffron threads (add these to the wine now)
1 pound medium shrimp, peeled and deveined
1 cup seafood stock (you can substitute vegetable stock, but it won't be as good; conversely, you could make a seafood broth from boiling the shrimp shells with celery, carrot and onion if you're bored with life and didn't remember to get seafood stock at Harris Teeter)
2 tablespoons olive oil, divided
2 tablespoons unsalted butter, divided
1 shallot, minced
1 garlic clove, minced
1 large can (14½ ounce) crushed tomatoes with juices; you can use the whole can, if you want to make this more of a soup.
1 teaspoon vanilla bean paste (can substitute extract); Note: you can make this optional, but it is an essential part of the taste in this dish.
1 tablespoon honey
2 tablespoons minced fresh chives
Sea salt and ground pepper
Prepare the Shrimp
Pat shrimp dry with a paper towel and season with salt and pepper.
Add 1 tablespoon of oil and 1 tablespoon butter to a skillet over medium-high heat.
When foam subsides, add shrimp and cook until brown (about 2 minutes).
Remove and transfer to a plate.
Prepare the Sauce
Using the same skillet as for the shrimp, add 1 tablespoon oil and 1 tablespoon butter and set heat to medium.
When butter is melted, add shallot and cook stirring until soft (about 3 minutes).
Add garlic and cook until fragrant.
Deglaze the pan with the wine and saffron mixture, allowing the wine to reduce by half (about 3 minutes).
Stir-in tomatoes, vanilla, and honey.
Allow mixture to simmer until it starts to thicken (about 5 minutes).
Stir in the broth and bring to a boil.
Add shrimp back to the skillet and coat with sauce. Cook for an additional 2 minutes.
Serving
Spoon sauce onto serving platter and garnish with chives.
Alternately, you can put into a crock pot on low to keep warm. Have chives on the side to be used when served to a plate.
---
Image by
Reinhard Thrainer
from
Pixabay