Knuttel Family Russian River Valley Chardonnay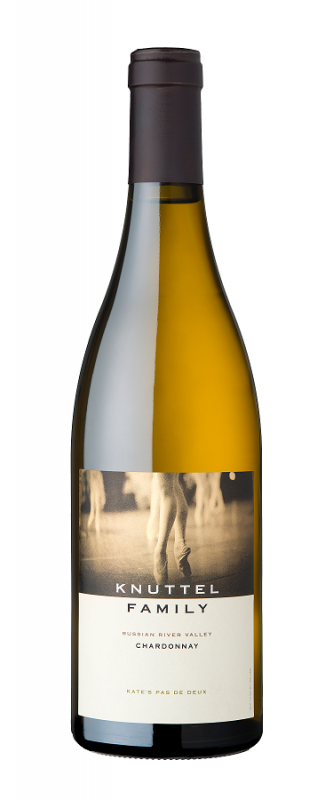 Knuttel Family Chardonnay
Russian River Valley, California
2019
Kate's Pas de Deux
The 2019 vintage of Knuttel Family Chardonnay was blended primarily from multiple blocks at Windsor Oaks Vineyard in the Chalk Hill sub-appellation of Russian River Valley, vines long cherished and utilized by winemaker William Knuttel. Fruit from Tom Larson's organically certified vineyard in Sonoma Carneros was added to enhance the structure and spiciness of the final blend. Our Knuttel Family 2019 Russian River Valley Chardonnay is in classic Burgundian style—Kate's Pas de Deux, a wine dance in which balance results from strength and poise, intensity and finesse. Whole cluster pressing insured maximum flavor and minimal working of the skins. All lots were barrel-fermented in French oak. Lees were stirred every two weeks through a partial malolactic fermentation, then monthly during final barrel aging. The final master blend was bottled unfined. This bright, expressive wine is well-articulated with flavors of lemon custard, tropical fruits, and orange blossom. A viscous, highly structured palate adds notes of nutmeg, ripe lemons and spicy oak, all merging in an elegant finish. The wine's balance makes it incredibly versatile with your favorite dishes—be adventurous!
WineChump Notes
Lots of special words in that description — lees (what the heck is that?), malolactic fermentation, unfined; but you don't need to be a winemaker to understand it. So, to translate, lees refer to all the sediment, yeast, and other particulates that "fall out" of the wine when it's made. Stirring them back up into the wine during the secondary fermentation, is a frequent practice to help make sure fermentation is complete. That "malolactic" bit essentially makes the "mouth feel" helping the finished wine come together nicely on the palate. The unfined bit, I question — because that means it hasn't been filtered to remove sediment from the wine. So, if they didn't filter, then they left the wine long enough in vats, stainless, or oak barrels that all the sediment has completely dropped out of the wine. The good news is you don't have to care about it, because this wine is beautifully clear.
Find this at Total Wine
for less than $15.