Beringer Bourbon Barrel Aged Chardonnay

Beringer Bourbon Barrel Aged Chardonnay
California
2017
150 years ago, brothers Jacob and Frederick Beringer left Germany to found a winery and distillery in Napa. Reusing their spirit barrels to age wine just seemed like good financial sense, but they quickly discovered it added a whole new level of complexity. Today, we honor Jacob and Frederick's pioneering spirit by aging Beringer Bros. wines in spirits barrels. Enjoy smooth, robust wines with flavors of vanilla, toasted hazelnuts, and caramel –a glimpse of Beringer's past.
Tasting Notes
This wine showcases a bouquet of ripe apricot, vanilla beam, and buttered toast. Creamy and mouth-coating, the palate evokes apple pie and vanilla ice cream with caramel coming through on the lingering finish.
Winemaking
Beringer Bros. Chardonnay is picked at the peak of flavor development from top sites across California and fermented in temperature-controlled stainless steel tanks with 25% malolactic fermentation. 20% of the wine is aged for 60 days in second-pass charred American Oak barriques which previously held Bourbon.
Mark Beringer, great-great-grandson of Beringer Vineyards' founding brother Jacob Beringer, was immersed in wine from the moment he was born in the heart of the Napa Valley. As the direct descendant to Beringer's first winemaker and one of the most iconic family names in Napa Valley wine history, he knew from a young age that he would follow in the footsteps of his ancestors. As a young man he spent many hours working in his family's wine store in Saint Helena, expanding his knowledge of wine as well as gaining an appreciation for wines outside of the famous region he has always called home.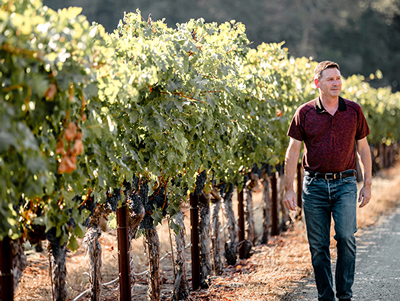 | | |
| --- | --- |
| Alcohol % | 14.5% |
| Enclosure Type | Cork |
| Oak Treatment | 60 days in American Oak Bourbon barrels. |
WineChump Notes
It seems as if we've opened about a thousand bottles of Chardonnay this summer, and our curiosity was piqued when we saw one that had been bourbon barrel aged. We found that the bourbon barrel aging added a supple addition to the oak, and the Chardonnay seemed to improve in the glass as it opened up. We found it go very well with pan-fried Maryland-style crab cakes.
Find this at Harris Teeter, Kroger, and Winn-Dixie for less than $16 with loyalty cards.