Somerset Mr. T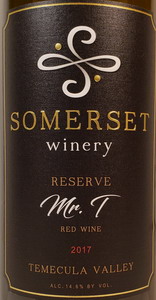 Somerset Mr. T
84% Sangiovese, 16% Cabernet Franc
Temecula Valley
2015
Winemaker Notes
The 2017 "Super T" blends Italy's Sangiovese and France's Cabernet Franc into a rich and complex wine. Aroma's of black fruit, damp forest, and sage greet the nose, driven by zesty acidity and a fluid tannin structure.
WineChump Notes
Somerset winery used to be Keyways winery, located just off of De Portola Road in Temecula, CA. The new owners have done a superb job of creating a selection of stellar wines. Mr. T (a Tuscan-style wine) combines 84% Sangiovese with 16% Cabernet Franc to form a delightful wine that can be paired with anything from hot dogs to Filet Mignon.
Winery Price: $46; Member price: $33 if still available.
See Somerset's shop for current availability.
Find it at Somerset Winery's Wine Shop