Noble Vines The One Black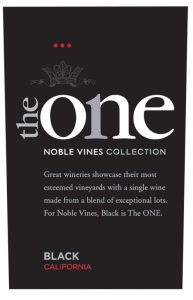 Noble Vines The One Black
Merlot, Zinfandel, Cabernet Sauvignon, Malbec
California
2015
Producer Notes
Noble Vines 1 Red Blend is a medium-bodied wine with balanced acidity and supple tannins. On the nose, rich aromas of blackberry and black cherry mingle with hints of toasty oak and spice. The dark fruit flavors carry through to the palate ending with a touch of pepper. The wine is a blend of dark red varieties; the selection varies from vintage to vintage to obtain the most delicious blend from each harvest. Merlot and Zinfandel lend fruit forward notes and soft tannins. Cabernet Sauvignon provides dark cherry flavors and firm structure. Malbec and other red varieties may also be included in the cuvee for additional complexity.
WineChump Notes
Dark and chewy, this red goes well with red meats, burgers, and hot dogs.
Best Price: $12.99
Find it at Trader Joes or online for less.