Condado de Haza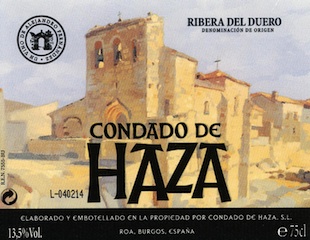 Condado de Haza
100% Tempranillo
Ribera del Duero, Spain
2002
Tasting Notes
Intense Tempranillo character is apparent in an elegant and pure wine only lightly influenced by the oak. Intensively fruity on the palate with a lingering, slightly dusty finish that promises excellent development in the bottle. Aged 15 months in primarily American oak.
Bodegas Condado de Haza Winery
In 1972, Alejandro Fernández and his wife Esperanza Rivera of Pesquera de Duero initiated the renaissance of Spain's Ribera del Duero appellation with the area's first modern wire-trained vineyard, their Viña Alta in Pesquera. In the mid-1980s as Tinto Pesquera was assuming its place among the most intriguing and powerful icons in the world of wine, Alejandro spied a neglected slope along the Duero River which had the appearance of being the most ideal vineyard site in the region, perhaps in all Spain: One full kilometer of southfacing mountain slope leading right to the river's edge. Ideal soils in the full range preferred by the Tempranillo variety, from gravel to clay with a chalky base, suggested the potential for a multitude of styles from this difficult grape, essential for creating the desired complexity and balance.
Abandoned for years, the slope consisted of hundreds of small parcels with separate and stubborn ownership. Three years of continuous negotiation beginning in late 1986 resulted in the first planting of just over 100 acres in 1989. Today the contiguous estate includes over 500 acres of prime Tempranillo vines. Encompassed within the historic county of the hilltop village Haza high above the opposite bank of the Duero, the estate was christened Condado de Haza.
While small amounts of an excellent 1993 were produced from Condado de Haza grapes, the great and ripe 1994 was the first vintage for shipment to the international market. Both 1993 and 1994 were fermented and pressed in the old bodega at Pesquera de Duero, then transferred to the barrel rooms on the new estate for aging and bottling. In 1995, the grapes were received and processed on the estate, all vintages thenceforth to remain on the property, from growing and harvesting to fermenting, aging and bottling, until the final shipment to the market.
Condado de Haza reflects the bold and brilliant winemaking style of Alejandro Fernández, unrivaled master of Spain's Tempranillo variety. Bottled after malolactic fermentation and 15 months in American oak, like Tinto Pesquera it can be enjoyed early yet will reward patient cellaring.
WineChump Notes
I've been drinking this wine since 2004, and it has been a consistent player. I just opened this one, thinking I'd waited a bit too long. Not so. With a nose of cherry and licorice, it had a smooth finish with no alcohol bite. I've been impressed with this wine for years, and I've never been disappointed.
"Big and round, with color and a bouquet of rubber, leather, chocolate, and berries.
Plump and smoky on the palate… solid flavor and plenty of clout."
87 Points
Michael Shachner
Wine Enthusiast
Sep 30, 2005
Average Price: $29.99